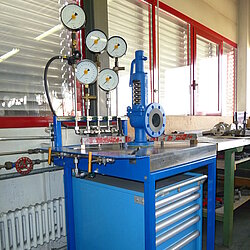 Aim: To guarantee the safety of people and equipment with regular inspections of safety relief valves, at least as frequently as the official inspection intervals.
Ramseyer is an SVTI authorised service centre for the inspection of safety relief valves according to the KIS-TR 901 and EKAS/FCOS 6516 guidelines.
Expert inspections of safety relief valves of all types and from all manufacturers by our experienced and professionally trained staff.
Safety relief valves are tested, adjusted, sealed and documented with an inspection certificate on our test bench. After inspection, the safety relief valves leave our workshops in virtually new condition.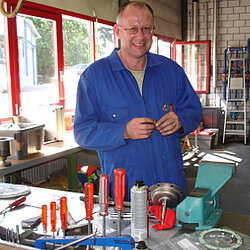 Aim: To guarantee the safe operation of your equipment for the long term.
Commissioning and maintenance of energy and safety-related equipment parts such as isolation valves, control valves, pressure reducers, boiler valves, diaphragm valves or the entire industrial electronics system.
Inspection of all current safety devices in our well-equipped workshop or on your site, including fittings from other manufacturers.
Reduction of costs and protection of both people and the environment. Most fittings can be fully refurbished at relatively low cost, which is often a more economical solution than replacing them with new fittings.