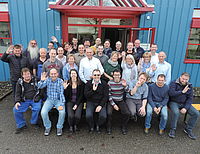 The energy and production plants equipped by the Ramseyer Ltd require a maximum of security for humans and environment. For this reason we do not want to win a design price with our products, furthermore they put functionality and reliability in the foreground. Normally used in the background, they fulfil their purpose very fast and very efficient. Nothing is left to the coincidence: Ramseyer Safety Technology is appropriate to ensure a trouble free enterprise. Today, tomorrow and with security also the day after tomorrow.
Consulting: A value-add to our customers through professional support
Milestones: The most important milestones in the history of Ramseyer
Quality system: Which standards Ramseyer sets in the safety technology
Job vacancies: Do you want to work at the leading Swiss company in the safety technology?
GTC Ramseyer: The general terms and conditions of the André Ramseyer Ltd (only available in German)
Contact persons: All your contact persons of Ramseyer grouped by the relevant branch