Good service essentially pays for itself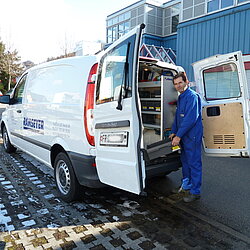 There are no compromises when it comes to the quality of our wide range of products. The safety and functionality of our fittings and safety devices must be guaranteed at all times, even on older models. To ensure that you can always rely on your products, they should be inspected and maintained regularly. This not only increases safety for both people and the environment, it also helps to maintain the quality and safety of your systems throughout their lifecycle. Good service from Ramseyer essentially pays for itself.
Why use our services?
Our company has many years of experience, and so do our service technicians.
Central location means short journeys.
Removal and refitting of your fittings on site - professional handling of your equipment.
Optional collection service provided by our staff.
Flexible, short-term scheduled appointments available for short shutdowns and low downtime costs for your facilities.