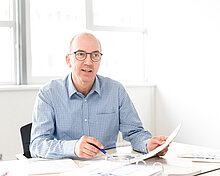 When it comes to safety and reliability, experience plays a key role. We have been working with safety issues and requirements in a wide range of industries for decades.
Working as closely as possible with both our customers and manufacturers, authorities and institutions enables us to provide skilled and informative answers to all kinds of technical and administrative questions.
Excellent customer service and customer management to match, together with quality and safety are at the heart of our company philosophy.
Our consulting services provide clear benefits
Professional and objective support
Need-focused consulting
Full utilisation of potential for improvement
Reduction of energy consumption
Reduction of environmental pollution
Occupational Safety
Sensible use of resources
Enjoy the benefits of our reliable and objective advice. Right from the start. It's worth it.