Principles of steam and condensate systems
Location
Gestra Ltd
Bremen
Germany
Description
Target Group:
Technical staff working for engineering companies, project, design and plant engineers, foremen, interested specialists and personnel responsible for commissioning, servicing and maintenance
Training Content:
Fundamental principles of steam and condensate systems
Transparent testing and demonstration facility
Construction of a steam condensate circuit
Construction, functioning und monitoring of steam traps
Special equipment and vessels for heat recovery
Hands-on seminars: testing stations, open and closed steam systems, transparent testing and demonstration facility
etc.
Program/Schedule
Evening before (arrival):
Departure from the airport of Zurich, arrival at Bremen, transfer to the hotel
1st seminar day
Training: theoretical part, evening programme
2nd seminar day / return journey
Testing stations, training, company visit, end of the seminar, guided city tour in Bremen, transfer to the airport of Bremen, departure, arrival at the airport of Zurich
Seminar fee:
CHF 990.- (excluding the German VAT of 19% = CHF 188.10)
The seminar fees include:
Training, flights, hotel accommodation, transfers and food during the two seminar days (but not the food during the journey and other expenses).
The flights and the hotel accommodation are directly booked by Ramseyer and GESTRA.
Cancellation conditions:
The participation can be cancelled free of charge up to the registration deadline. Cancellation must be by e-mail. In case of cancellation after the deadline respectively non-appearance, the payment of the complete fees will be due.
Data protection
In accordance with Article 13 of the Swiss Federal Constitution and the relevant data protection legislation, everyone has the right to have their privacy respected, as well as to protection against misuse of their personal data. Ramseyer complies with these provisions. Personal data is treated in strict confidence and is neither sold nor passed on to third parties. No personal data is stored when you visit our website.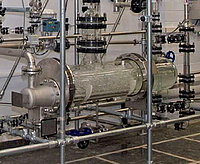 Registration Deadline
15.02.2023